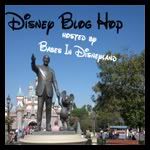 Hello there and welcome to my own personal Wonderland. If you're stopping by from the blog hop you know that this week is all about Disney decor. I have big plans for my imaginary house and what a wonderful Alice in Wonderland themed garden I'll have... I picture the outside to look like the gingerbread architecture of the Old Key West resort with hidden Mickey's everywhere... ah, a dream is a wish your heart makes....
Anywho, back here in my Wonderland I have managed to cram a LOT of Disney into a little space.
This is just a taste of what my tower holds...to keep this a tolerable length I will limit this post to just my "office" where I do all of my fabulous blogging from.
Above my desk...
Our pin collection minus the 200 or so we traded for on our last trip to the World in March.
My Figment shelf (yes, he gets his own shelf, he shares it with Alice but it's pretty much his.) 9" Vinylmations on the next shelf down. Hubby has a Ghostbuster shelf but that isn't Disney so feel free to ignore it.
Well, that's my office aka "Disney room". Stay tuned for more photos of my Disney decor.
Be sure to join the hop to share photos of your Disney decor too!